Land, Sky and Space: accurate satellite positioning takes off!
Fly in the cockpit of a regional aircraft, travel in self-driving vehicles, see how rockets get into space and how we make rural land more productive.
Introduction 
We all rely on knowing where we are and the location of things. Location-based technology is improving all the time, it allows us to navigate safely, travel the world and manage the environment around us.
On this field trip you will jump aboard a self-driving vehicle at Christchurch Airport to discover how these vehicles know where to go and how to keep passengers safe. Following this test-ride you will board a domestic Air New Zealand flight destined for Invercargill. During this flight you will see how pilots use the latest technology to safely navigate. While in Invercargill you will investigate the latest satellite based navigation system, visit a ground station and look at how location-based technology is helping local council experts to better manage parts of the Southland environment. Using Google Maps you will navigate your way north to the City of Dunedin where you will meet University of Otago surveying students and experts who are helping to create more accurate property boundary maps of rural areas.
Find out more about the growing number of jobs available in the geospatial industry and how you can utilise location-based technology in your day to day life.
Meet Shelley the LEARNZ field trip teacher
Watch the introductory video on Vimeo.

Location
You will begin your field trip in the Garden City of Christchurch, the largest city in the South Island. You will then take a 90 minute flight on a turbo-prop plane to Invercargill, our most southern city and home to around 55,000 people. You will drive two and a half hours north to end your field trip in the University town of Dunedin, the second largest city in the South Island.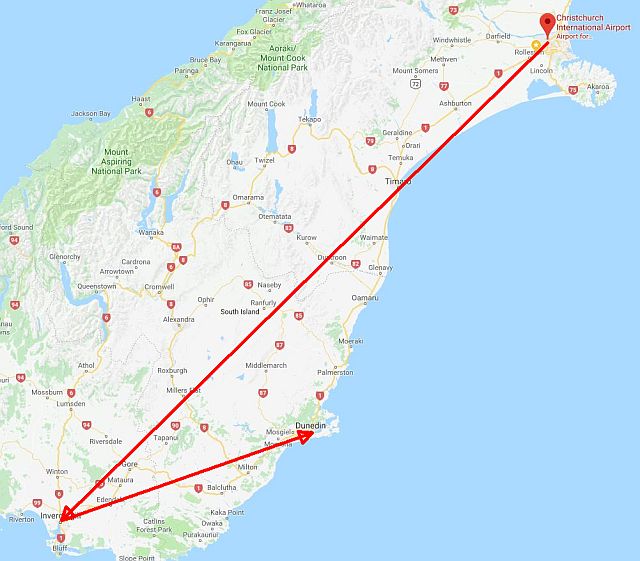 Field Trip Plan - May 2018
Monday 21 May


Travel Day

Read the diary about Shelley and the ambassadors journey from Dunedin to Christchurch to begin the Land, Sky and Space field trip.

Tuesday 22 May

Self-driving vehicles and flight navigation

Begin your day at Christchurch airport where you will experience a ride in a self-driving vehicle. See this vehicle in action in the videos. Read the diary to find out how SBAS technology can improve the safety of self driving cars and planes. Read the ambassador updates and listen to the recorded web conference. 

Wednesday 23 May

Satellite navigation and aerial imagery

Drive south of Invercargill to the Awarua Satellite Ground Station. Read the diary to see how we receive information from satellites. Launch a drone at Verdon College. Watch the videos about how drones are used and wilding pines are managed using satellite-based navigation technology. Read ambassador updates. Listen to the recorded web conference.

Thursday 24 May


Rural surveying and mapping

Head north to Dunedin to meet surveyors from the University of Otago. Watch the videos to see how they survey and map property boundaries for subdivisions, farms and conservation areas. Read the diary about the science and art of surveying. Listen to the recorded web conference and read the ambassador updates.